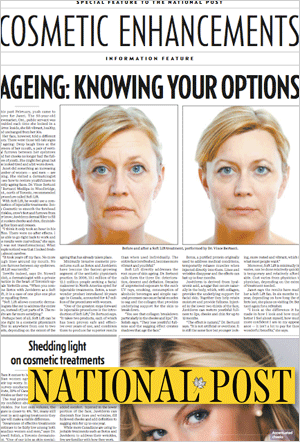 This past February, push came to shove for Janet. The 50-year-old Newmarket, Ont., public servant was troubled each time she looked in a mirror. Inside, she felt vibrant, healthy, and unchanged from her 30s.
Her face, however, told a different story. There were those tell-tale signs of ageing: Deep laugh lines at the corners of her mouth, a pair of vertical furrows between her eyebrows and her cheeks no longer had the fullness of youth. She might feel great but she looked tired and a bit worn down.
Janet did something an increasing number of women — and men — are doing. She visited a dermatologist to see how to restore youthfulness to gently ageing faces. Dr. Vince Bertucci of Bertucci MedSpa in Woodbridge, Ont., north of Toronto, recommended a procedure called Soft Lift.
With Soft Lift, he would use a combination of injectable treatments: BOTOX COSMETIC® to smooth the forehead wrinkles, crow's feet and furrows from her brow; Juvéderm dermal filler to fill out sunken cheeks and chin, diminishing fine lines and creases.
"I think it only took an hour in his office. There were no after effects. I was able to go right back to work and the results were marvellous," she says. "It was not transformational. What people noticed was that I looked fresher, almost carefree.